Welcome
Enjoy the romance and tropical surroundings of Bigsand. Our 10-room hotel borders on a soft white sandy beach, with pristine coral reefs just off shore.
Located in the Richmond Bay area, just a mile from Clifton, the Capital of Union Island, Bigsand Hotel offers you the perfect setting for your dream vacation in Paradise.
Whether you're into water sporting, like to explore the majestic inland, make excursions to the neighbouring islands or just want to relax and enjoy the Caribbean tranquillity, we can certainly make your holidays complete and memorable.
Don't miss the opportunity to be a part of the wonderful experience that awaits you. It's just naturally beautiful!
Hotel services
Babysitting / Child Services
Hotel Facilities Bar / Lounge
Beach
Concierge
Quick check
Free parking
Modem lines in room
Pets Allowed
Restaurant
Room Service
Laundry / Valet Services
Accomodation
Bigsand Hotel offers 10 luxury, individually designed ocean-view rooms, located just a few footsteps from the waterline.
All accommodations offer a private beachfront balcony, a spacious living room, a fully equipped kitchen, a separate bedroom with double bed, and a bathroom with bath or shower.
Bigsand Hotel was built in 2002. Excellent noise reduction and heat isolation materials were used in the construction to ensure your tranquillity and comfort.
All bedrooms have air-conditioning, the living rooms are equipped with ceiling fans and cool terra cotta floors to guarantee a comfortable climate at all times.
There are two honeymoon suites, offering just married couples, memories to last a lifetime.
For those seeking a maximum of comfort in combination with the most splendid panoramic view of the nearby Tobago Cays, Bigsand's is the right place for you.
Check in and Check out:
Check-in time starts at noon
Check out time: 11:00 a.m.
Restaurant
Indulge your Senses.
Our culinary team with local and Belgian roots offers you that perfect match: French and Belgian cuisine with a Creole final touch. There will be no need to dine anywhere else!
Whether it is for breakfast or dinner, we look forward to serving you. On top of your culinary enjoyment, you will also enjoy the splendid beach view with the sound of the whispering waves in the background.
Fish and Lobster (when in season) are bought fresh from the fishermen in the villages, while local herbs, vegetables and fruits are selected at the local market or brought in from the main island – St. Vincent. We also produce fresh vegetables and some fruits in our own garden.
We can provide a picnic basket for those who are making a trip to discover Union Island's nature or making a trip to a neighbouring island.
The bar is open all day long. Enjoy one of our tropical delights, get a fine Belgian beer, or ask for an ice cream or snacks as you please.
And when the sun sets on the warm Caribbean Sea, it is time to enjoy a dinner in the moonlight with the sound of the gently rolling sea waves in the background.
Another unique experience.
Customer Reviews
Be careful: there is no luxury here. Electricity only for a few hours, simple cabins with not the best matrasses. But it is clean and every cabin has a shower and toilet.
Nice place with a wonderful view. Nice sandy beach. Ok accommodation – simple but has everything you could need. Delicious and affordable food. Breakfast is just an amount and variety. The music in the restaurant was great. The beach is great for stargazing.
Very simple bungalows, do not expect 5 star hotel – but expect 5 star service – they still give you and provide you everything you could wish for. Very nice work staff, owner is very polite and welcoming. The food is good, especially the breakfast, served in quantity and variety.
Activities in and around Bigsand Hotel
BigSand Hotel offers a premium service geared to meet the needs of our esteemed guests during their stay. Located leeward of a small beach outlet that separates Richmond Bay and Belmont Bay on the North shore, thus offering a unique setting for a wide range of water sports. The little outlet shelters the Bay in front of the accommodations from the North Eastern trade winds that can be as strong as 6 Beau-fort during summer months.
The entire Bay is an ideal place for snorkelling, swimming and sunbathing, whereas the Windward Bay of Belmont has perfect conditions for windsurfing and surfing. The entire Bay offers various scuba-diving possibilities. The more experienced diver will certainly enjoy the beauty of the nearby Tobago Cays, where a huge horseshoe reef surrounds five deserted islands, and creates one of the most beautiful diving sites on earth. We do organize dive excursions and individual diving packages can be tailored to suit your special need.
Canoes, snorkelling equipment and small beach games are available on the premises at our guests' disposal at any time.
To pamper the guests, the hotel provides the following equipment usage for free (for rent to non Bigsand guests):
Sea Canoes
Surfing / windsurfing boards
Snorkelling equipment
Bowls
Mountain Bikes
Other activities, sometimes in cooperation with other service providers at additional cost, include:
Scuba Diving
Fishing
Snorkelling trips to neighbouring islands
Visits to the Tobago Cays
Bigsand Hotel also occasionally organises food feasts on the barbeque pit by the beach with soft entertainment performed by local artists in the evenings.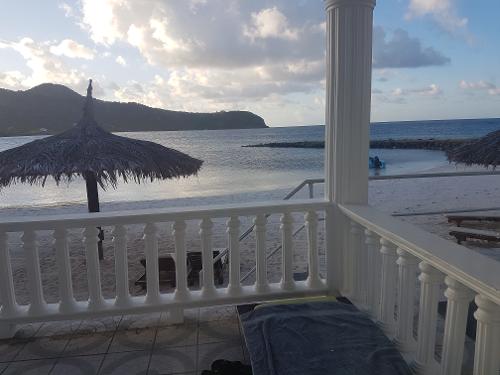 The Island

Union Island Restaurants

Other Union Island Hotels